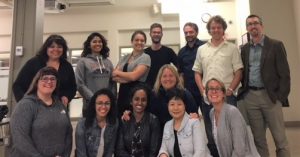 I recently wrapped up my final course at Tyndale Seminary.  It was nice to have a smaller group (pictured above) for this last time through Systematic Theology I.  Over the last seven years, I have taught over 30 courses at Tyndale and been blessed by the opportunity to teach and learn with hundreds of students representing a variety of countries, cultures, and confessional traditions.  The students have stretched and encouraged me in profound and numerous ways.  To all of my former students who are reading this post, I say, "Thank you."
For the upcoming academic year, I have accepted an appointment to Providence Theological Seminary in Otterburne, Manitoba, where I will be serving as Associate Professor of Theology.  In this coming year I will be offering the following courses:
Theological Foundations (Fall 2018, Winter 2019)
Themes in Theology: The Person and Work of Jesus Christ (Fall 2018)
Themes in Theology: The Holy Spirit and Last Things (Winter 2019)
Theologians of the Church: Reading with the Fathers (Winter 2019)
Let me know if you've come across any resources that you think would be worthwhile additions to any of my syllabi.