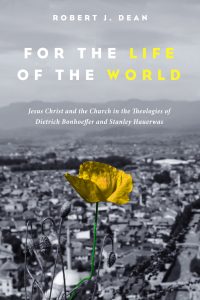 In celebration of the publication of my new book For the Life of the World: Jesus Christ and the Church in the Theologies of Dietrich Bonhoeffer and Stanley Hauerwas (Eugene, OR: Pickwick, 2016), a special book launch celebration was held at Good Shepherd Community Church in Scarborough on Wednesday, July 6, 2016.  As part of the festivities, three theologically-inclined, missional practitioners graciously accepted the invitation to respond to the central chapters of the book.
David Schuchardt, lead pastor of Northview Community Church (Regina, SK), addressed Chapter 2: "This Man is God!": The Person of Jesus Christ.  The audio for David's comments, preceded by Pastor Steve Tu's welcome and introduction can be found below:
Robyn Elliott, who was the valedictorian of the graduating class of 2014 at Tyndale Seminary and is currently serving as interim pastor of discipleship at Yorkminster Park Baptist Church, engaged with Chapter 3: A Peculiar People: The Church of Jesus Christ.  Robyn's address can be listened to below:
Glen Soderholm, a gifted singer-songwriter and pastor of Two Rivers Church (Guelph, ON), reflected upon Chapter 4: For the Life of the World: Church and World. The audio of Glen's reflections can be accessed below:
I followed their presentations with a few comments of my own.