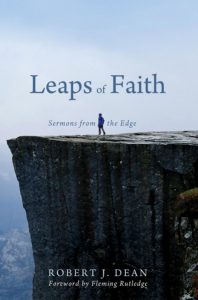 Here are more of the endorsements that have come in for Leaps of Faith:
"Much North American preaching is anemic—at best. Robert Dean demonstrates that a robust alternative is possible: gospel-shaped, theological, liturgical, pastoral preaching. Those who want to preach, and those who desperately need to hear, such sermons will be encouraged and enlightened by this significant collection. And if some readers learn to preach in similar ways, the church in North America (and elsewhere) might just be spared both bland sermons and a correspondingly feeble witness."
Michael J. Gorman (Raymond E. Brown Professor of Biblical Studies and Theology, St. Mary's Seminary & University)
"In this collection of finely-crafted and inspiring sermons, Dean powerfully demonstrates how every biblical text affords preachers the opportunity to speak to the heart of the gospel, of the God whose love is demonstrated for all in the life, death, and resurrection of Jesus Christ."
Paul Scott Wilson (Professor of Homiletics, Emmanuel College, University of Toronto)
"It's rare to find a preacher who is able to make sound, orthodox theology accessible and engaging.  Robert Dean knows how to do just that.  While taking scripture seriously, he also shows compassion for his listeners, helping to provide access to some of the greatest treasures of the church's wisdom.  Dean's sermons are courageous, invigorating leaps of faith that always manage to land us in the arms of a loving God.
Will Willimon (Professor of the Practice of Christian Ministry, Duke Divinity School)