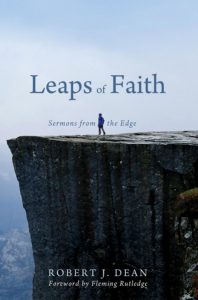 I am pleased to announce the publication of my new book, Leaps of Faith: Sermons from the Edge (Resource Publications).  The book includes sermons that I have preached over the course of my ministry as a pastor at Good Shepherd Community Church in Scarborough, as an itinerant preacher speaking throughout Southern Ontario, and as a professor of theology at Tyndale Seminary.  The sermons are prefaced by a short introductory essay where I theologically reflect upon the task of preaching and an insightful Foreword by Fleming Rutledge that may be worth the price of admission by itself.
I'll have more to say in the coming days about an upcoming series of posts engaging with the book that will appear here on thinkingafter and also about some special events to celebrate the release of the book at which copies of the book will be available for purchase.
In the meantime, here is the blurb that appears on the back cover:
If you are passionate about participating in the recovery of preaching for the spiritual formation of God's people, then you will want to jump into this lively collection of biblically rigorous, culturally intuitive, grace-drenched sermons. Robert Dean sets the bar very high, even as he throws the gauntlet down, with these remarkable expressions of all that preaching was supposed to be and can still become.
Animated by the conviction that the preached word is the playground of the Living Word, the pages of Leaps of Faith are populated by saints and sinners, pimps and prophets. Unexpectedly and delightfully, Bono works alongside Bonhoeffer, Dr. Phil learns a lesson from the Amish, and a discussion of body odor primes the senses for contemplating the mission of God.
Rooted deeply in the lives of actual worshipping communities, these wonder-laden sermons from the prophetic imagination of an emerging pastor-theologian dare the reader to leap into the continuing story of the Triune God and, in doing so, discover that all of life has been taken up in the Gospel of Jesus Christ.